Benefit from Shark-Co Performance
Our foam inserts create the perfect custom protective packaging and material-handling solutions for a variety of markets and applications. Each solution is shaped by a level of design, materials, and process expertise to fit your unique application.
A Variety of Applications
From the factory floor through the entire distribution chain, Shark-Co foam inserts deliver  innovations that deliver critical benefits to a variety of industries. Our foam inserts maximize protection of your most valued products and are engineered to improve performance and efficiency.
Our team acts as an extension of your in-house development, engineering, and manufacturing groups and works closely with you to solve your complex packaging, product, and component challenges. We specialize in creating custom protective packaging, shipping, and material-handling solutions.
Soft Foam
 Rugged Resistance
Shark-Co foam is manufactured in the USA and meets all federal specifications. Using our distinctive cross-linked and closed-cell polyethylene foam, we create products that are resistant to:
Fire & Water

Mildew

Odors, Stains, & Tears

Harsh chemicals and lubricants
With dense yet lightweight foam, our protective inserts withstand any environment. Shark-Co's foam products also come in a range of weights, from 2 lbs to 6 lbs, that provide a variety of storage and safety capabilities to protect your individual assets.
Customizable to 
Your Specifications
Shark-Co works with you to customize dunnage to fit your exact needs. See the Shark-Co difference when you use our products to transform your shipping process.
Size: We can cut foam up to 72 inches in length by 48 inches in width, with up to 4 inch thick solid bun stock. Our foam can also be layered in order to provide cushioning for large items with varying depths.
Accuracy: Every part is carefully scanned with 3D imaging and drawn to its exact shape in multiple perspectives to ensure proper fit every time. We also design contoured edges and added grip slots for easy access.
Standard Color Combo: Our custom foam inserts feature our standard colors (red, blue, gray, yellow, charcoal, black, and white) for immediate production. More color options are available to match your brand and create a truly custom color combination although some color and quantity limitations may apply. For custom branding, w

e can match the Pantone color book with up to 1300 colors (though this will add extensive lead time).

Extra Options: We also provide laser-etched inventory control codes, laser-etched identification tags, and machine-routed customer logos.
Dunnage & Packaging
Military & Police
Tool & Case Kit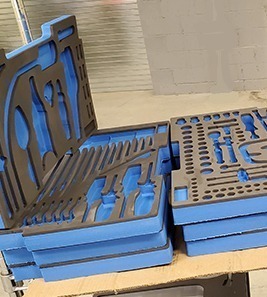 Special Projects