Custom Foam Inserts for Aerospace & Aviation
Shark-Co works with you to develop custom foam solutions for your aviation and aerospace tools. We realize that tool inventory management and control is an issue of key importance for your industry, especially when implementing 5S LEAN and Six Sigma standards. Avoid foreign object debris and catastrophic events with a place for every tool in contrasting foam.
A Variety of Applications
FOD can be caused by lost tools and parts getting tangled in control cables, jamming moving parts, and shorting out electrical connections. At Shark-Co, we're attacking FOD at the source. Our custom foam and inventory solutions give aircraft OEMs and maintenance teams the tools they need to meet control procedures for toolbox and kitting inventories.
Shark-Co inserts help you to accomplish your 5S LEAN and Six Sigma objectives. Numerous aviation companies trust Shark-Co foam inserts with high-value aviation and aerospace tools and parts in their assembly, repair, and overhaul facilities because we have developed top-quality, customized foam inserts they need.
Benefit from Shark-Co Performance
We know that misplaced tooling can account for time-consuming and revenue-damaging down-time. Our inserts give you the ability to respond quickly and efficiently when a tool or item is missing, hopefully preventing an aircraft being taken out of service. Organized kitting utilizing our foam inserts not only prevents tools from ending up where they shouldn't, but also aids in speeding up repairs.

We also understand that highly specialized aerospace tools, parts, and components require a significant investment. Shark-Co inserts provide you a perfect fit for your tools and more every time. Additionally, we offer laser engraved parts or serial numbers along with contrasting foam for added confirmation that everything is or more importantly NOT in its right place. Our inserts allow you to:
Save labor hours
Maximize profits
Improve efficiencies
Eliminate waste
Protect valuable items
Tell what's missing at a glance
Protect expensive tools from damage
Master 5s and Lean
Prioritize safety
Decrease downtime
Frequently Asked Questions:
Q: What specific applications in the aerospace and aviation industry can benefit from custom foam inserts?
A: Shark-Co's custom foam inserts can benefit various applications in the aerospace and aviation industry, including tool control, equipment protection, parts organization, instrument storage, and transportation of delicate components.
Q: Can custom foam inserts be designed to meet specific industry regulations or standards?
A: Yes. Our custom foam inserts are designed to meet specific industry regulations or standards. We can work closely with you to ensure that the foam inserts comply with the necessary requirements, such as safety, flammability, or electrostatic discharge (ESD) protection.
Q: Can custom foam inserts be designed for specific aircraft or equipment models?
A: Yes. Shark-Co's Custom foam inserts are designed to fit specific aircraft or equipment models. We work closely with trusted suppliers to create foam inserts that precisely fit the designated items with the necessary dimensions and specifications.

Q: How do custom foam inserts help protect delicate aerospace and aviation instruments?
A: Shark-Co's custom foam inserts offer excellent shock absorption and cushioning properties, providing a protective barrier around delicate instruments during transportation or storage. This helps prevent damage caused by impacts, vibrations, or shifting during handling.

Q: Can custom foam inserts be made lightweight to prevent adding excessive weight to aircraft or equipment?
A: Shark-Co's custom foam inserts are made of polyethylene closed-cell foam and is designed to be dense yet lightweight, preventing the addition of excessive weight to aircraft or equipment. Polyethylene closed-cell foam is naturally lightweight, and its closed-cell structure makes it ideal for absorbing impact and shock while maintaining its shape and integrity. We work with our trusted manufacturer to tailor the thickness and density of the foam inserts to achieve the desired level of protection while keeping the weight to a minimum. This way, you can rest assured that your equipment and assets are adequately protected without adding unnecessary bulk or weight.

Q: Are your custom foam inserts resistant to temperature and humidity fluctuations?
A: Shark-Co only uses Polyethylene closed-cell foam that is known for its exceptional resistance to water and moisture, making it highly suitable for use in environments where humidity is a concern. Additionally, this type of foam is highly resistant to temperature changes and can maintain its shape and protective properties even in extreme temperatures. Our foam inserts are designed and engineered to withstand harsh environmental conditions

Q: How long do custom foam inserts typically last in aerospace and aviation applications?
A: The lifespan of Shark-Co's custom foam inserts can vary depending on factors such as usage, maintenance, and the specific demands of the application. Well-maintained foam inserts can last for years, but we recommend you regularly inspect and replace them if signs of wear or damage are detected.

Q: Can custom foam inserts be recycled or disposed of sustainably?
A: In terms of sustainability, Shark-Co's foam inserts can be recycled and disposed of responsibly. While recycling options may vary depending on location, many facilities accept and process polyethylene foam. Polyethylene closed-cell foam is chemically inert and does not release harmful substances during disposal, making it environmentally friendly.

Invest in High-Quality Custom Foam Inserts for Your
Aerospace & Aviation Equipment with Shark-Co Manufacturing
When it comes to the protection of your valuable aerospace and aviation equipment, don't settle for anything less than the best. At Shark-Co Manufacturing, we pride ourselves on providing precision-engineered custom foam inserts and cases that provide unparalleled protection against impact, shock, and vibration. Our foam inserts and cases are designed to fit your unique requirements, ensuring maximum safety and organization during transportation and storage.
Whether you need foam inserts for tool control, equipment protection, or parts organization, we can create the perfect solution for your needs. Contact us today to discuss your requirements and receive a personalized quote. Trust Shark-Co Manufacturing for the ultimate protection and organization of your aerospace and aviation equipment.
Automotive
Dunnage & Packaging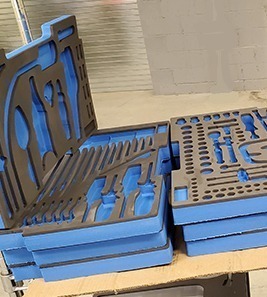 Government
Cases