Aviation and Aerospace
Shark-Co works with you to develop custom foam solutions for your aviation and aerospace tools. We realize that tool inventory management and control is an issue of key importance for your industry, especially when implementing 5S LEAN and Six Sigma standards. Avoid foreign object debris and catastrophic events with a place for every tool in contrasting foam.
A Variety of Applications
FOD can be caused by lost tools and parts getting tangled in control cables, jamming moving parts, and shorting out electrical connections. At Shark-Co, we're attacking FOD at the source. Our custom foam and inventory solutions give aircraft OEMs and maintenance teams the tools they need to meet control procedures for toolbox and kitting inventories.
Shark-Co inserts help you to accomplish your 5S LEAN and Six Sigma objectives. Numerous aviation companies trust Shark-Co foam inserts with high-value aviation and aerospace tools and parts in their assembly, repair, and overhaul facilities because we have developed top-quality, customized foam inserts they need.
Benefit from Shark-Co Performance
We know that misplaced tooling can account for time-consuming and revenue-damaging down-time. Our inserts give you the ability to respond quickly and efficiently when a tool or item is missing, hopefully preventing an aircraft being taken out of service. Organized kitting utilizing our foam inserts not only prevents tools from ending up where they shouldn't, but also aids in speeding up repairs.

We also understand that highly specialized aerospace tools, parts, and components require a significant investment. Shark-Co inserts provide you a perfect fit for your tools and more every time. Additionally, we offer laser engraved parts or serial numbers along with contrasting foam for added confirmation that everything is or more importantly NOT in its right place. Our inserts allow you to:
Save labor hours
Maximize profits
Improve efficiencies
Eliminate waste
Protect valuable items
Tell what's missing at a glance
Protect expensive tools from damage
Master 5s and Lean
Prioritize safety
Decrease downtime
Automotive
Dunnage & Packaging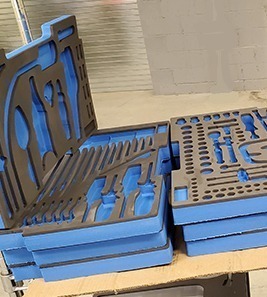 Government
Cases